Troxell, Hope: Cosmic attainment.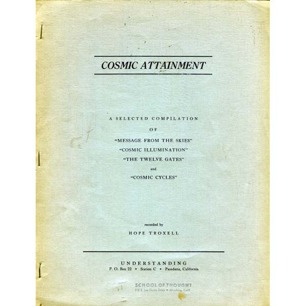 Price:
$40
Inc. 0% Tax
Type:
Good, browned edges
Quantity:
Please select a variant above
In Stock
A selected compilation of
"Message from the skies", "Cosmic illumination", "The twelve gates" and "Cosmic cycles".
Understanding, Pasadena, California / School of Thought, Altadana, California
Booklet, US legal size, 16 pages. Rare.